Skyline Scaffold is honoured to be working on one of the biggest demolitions Vancouver has seen in decades, and the tallest demolition in this city's history.
With 150,000 lbs of steel to install, here's a sneak peek of the inner workings of our latest scaffolding project, the old Empire Landmark Hotel: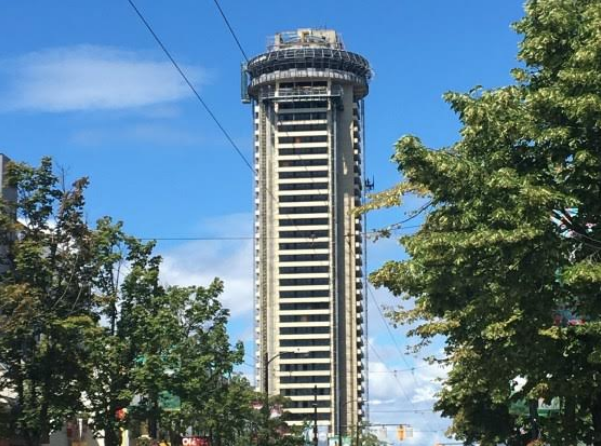 Instead of opting for a implosion demolition, the Empire Landmark Hotel will be demolished over time via controlled demolitions, one floor at a time.
Scaffolding For A Controlled Demolition
Implosion demolition is usually associated with loud noise, tremors and the scattering of debris. For a landmark as tall as this one, this means that much of the West End, and its residents, would be coated in dust. Opting for a safer and more environmentally friendly option, the Empire Landmark demolition project starts at the top of the building and works its way down.
The Brokk system pushes concrete through the elevator shaft before removal from the site, resulting in minimal noise and disruption. By crushing instead of hammering, remote-controlled concrete crushers slowly and safely demolish the building floor-by-floor.
Here's a video of the Brokk system in action:
The piece-by-piece demolition of the Empire Landmark Hotel is slated to take a year, ending in February 2019. To dismantle the 42-storey, 394 foot (120 metre) tall building, crews plan to dismantle one floor approximately every four days.
Skyline Scaffolding Services
To complete this gargantuan project, Skyline Scaffold is supplying the following:
Scaffold access and heavy duty debris netting around the penthouse
A "secondary" support deck for the catchment of all debris from the demolition of the Cloud Nine roof slab, using Layher System scaffolding
A "primary" cantilevered support deck, thrust out from the top common floor, for the catchment of all debris from the demolition of the Cloud Nine floor slab.
Skyline designed this platform out of Structural Steel, working with the Supreme Group on fabrication and installation. At over 180lbs per square foot design capacity, steel I-beams were the best, most economical solution to carry such a huge design load, while insuring the safety of all workers on site. Skyline believes in designing and supplying the Safest, best solution to an access problem, period.
Our scaffolding will protect workers from the weather, and protect dust and debris from moving outside of the project area. Using Layher products to provide the utmost in quality scaffolding, we can't wait to see the project usher in a new age for the city of Vancouver.