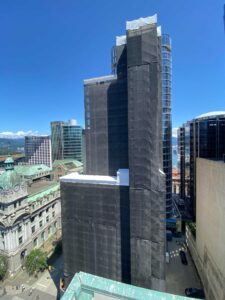 This project is an exterior restoration of a historical landmark in downtown Vancouver – the Royal Bank Building.
The Royal Bank Building has historical value as a classical bank built in the 1910s, and is an anchor point on Main and Hastings.
Working closely with VDK Masonry, we developed and installed City Super Frame high capacity, long span sidewalk hoarding capable of supporting a full access masonry scaffold, inclusive of two comfort stair systems and two material hoists.
Building transitions and historical building methods required us to find ways of loading the building's strongest point to resolve the significant imposed scaffold load above the 9th floor.
Phase two of this project includes a full high capacity loading deck spanning the complete alley. This platform will not only hold up the scaffolding, but includes a 2 Ton hoist and 'trap door' system that will allow the loading and unloading of building materials right off the deck of any truck!
Check out the full scale of this project via (edited) drone footage below: