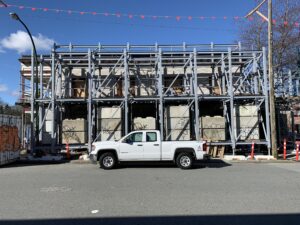 We were tasked with designing a Steel Façade Retention System to protect and support the exterior façade of a heritage building in Mount Pleasant, Vancouver while the remainder of the building underwent demolition for construction of 'Living Midtown', a collection of boutique modern homes. Mount Pleasant is known for passionate local businesses and residents and it was vital that the existing heritage be maintained.
We designed, fabricated, and painted each portion of the super frame steel façade retention system before arriving on-site, and it was craned in for install.
Skyline has the capacity and flexibility to design and fabricate façade retention systems for any heritage building across Vancouver and the Lower Mainland.