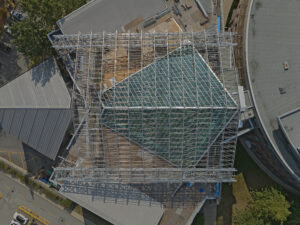 When we were approached by Matra Construction for a solution to handle the skylight replacement over an active building lobby in the Justice Institute of British Columbia in New Westminster, we were excited. But, like any good superhero, we didn't want to just do this job — we wanted to do it better than anyone else.
After reviewing site conditions and assessing challenges—spanning a two-way sloping skylight, without loading the existing roof—we landed on a 100' x 100' Keder roof and loaded the exterior walls instead via gantries on either side using our patented SkyTruss system, the lightest and strongest unit beam in the market. 
This, in addition to a large internal area platform, allowed the changing of the glass in record time, and without any debris issues or leaks into the Justice Institute. Superman and Wonder Woman were both thrilled — Aquaman, not so much. There is no pleasing that dude.