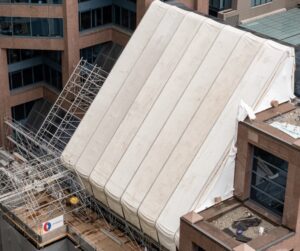 The HSBC building in downtown Vancouver is a 23-story office tower that was in need of a skylight replacement. The project required a custom fitting of gantry and hoist work to get the job done efficiently and safely, all while accommodating the businesses still operating in the atrium lobby. Being located in a busy city meant that staging any kind of crane close to the site was impossible, so we built a 2000-pound gantry above the streets allowing flatbed trucks to be loaded and unloaded directly from a single lane below. We used Layher Allround scaffolding structures outfitted with Protect Panels to keep paths clear and work out of sight. The panels produced a tight seal that kept commuters protected from the elements and the noise. We constructed an asymmetrical Layher Keder XL Roof to protect the building while the glass was removed.
Inside the building, Layher Allround scaffolding provided the base structure required to reach the roof from within. We used Layher lightweight lattice beams to support the heaviest loads at the widest spans. We reduced the total weight of the structure by 12%, resulting in a reduction of labor and freight costs, and by using interlocking rosettes we ensured a tool-free assembly and secure connection system.
Our work on the HSBC building was featured in Access Canada magazine — read more about it on our blog.