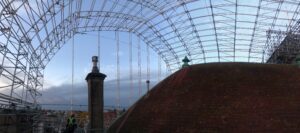 This temporary roof system at Heritage Hall allowed for roof tile replacement as we enter Vancouver's famous rainy season. This was a complete exterior restoration of all the stone and brickwork on the facing of this historic building, designed by Archibald Campbell Hope. It was originally constructed in 1915/16 as a postal station and has seen a variety of uses since. It was declared a heritage site in 1974 and has now been carefully restored by Scott Construction Group.
This project required a system that touched the building minimally. The engineering challenge for us was to redistribute loads from our system, the workers, and materials — and redirect them to the ground and/or existing structural areas of the building. All while completely covering the roof and spires.
We brought in a special barrel roof system from Layher in Germany — compatible with our Keder roofing system — that enabled us to create access to the clock tower and spires that make this building so distinctive.