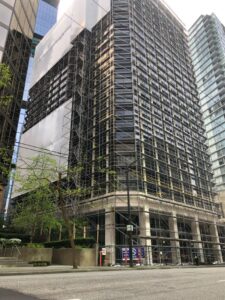 Currently, the home of the Canada Revenue Agency, 1166 W Pender is undergoing redevelopment into a "next-generation" office tower.
This project requires an 85,000 sq. ft. full access package as the existing building comes down. It's nestled between towers and over a busy street so abatement and public protection are key. The project requires lots of steel, with structural steel works and a 450mm deck at base.
Very few firms in Vancouver have the expertise to demo a large office building surrounded by pedestrians and other towers. Fortunately,  Pacific Blasting does. In its place will be an office tower built by EllisDon Corp, one of several towers Skyline Scaffold Ltd is in process of installing. Big thanks to Norland Limited and Pacific Blasting.